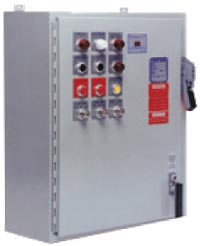 Model 3200SS
The Model 3200SS (Solid State) Control System is completely prewired and ready for installation. System supplied complete with a well marked terminal strip for easy, safe, and accurate electrical interface to the various punch press components. Due to the hybrid design characteristics of the 3200SS, a main power disconnect switch and magnetic motor starters can be supplied in the same control panel. Complies with section 1910.217 of the Federal Register and ANSI Standard B11.1-2009. 3200SS>>
SSM-05 / SSM-08
The Board Only Clutch/Brake Module (Part #SSM-05). The redundant clutch/brake punch press control module with a remote panel mount message display (available in English or Spanish diagnostics).
The SSM-08 includes the same options as the SSM-05, but also includes the IEC switches, push buttons and legend plates.
Both models comply with section 1910.217 of the Federal Register and ANSI Standard B11.1-2009. SSM-05>> SSM-08>>
SSM-10
Excellent for the Rebuilder or O.E.M. to install onto existing control panel backplate. The  Short Stack Module  (Part #SSM-10) is Small in Size — Big in Safety and Control. The redundant clutch/brake punch press control module has a remote panel mount message display (available in English or Spanish diagnostics). Complies with section 1910.217 of the Federal Register and ANSI Standard B11.1-2009. SSM-10>>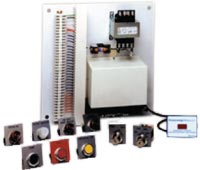 SSM-20
The  Short Stack Plus  (Part #SSM-20) encompasses all of the features and components of Part #SSM-10 plus all of the switches, legend plates, push buttons, and indicator lights for easy mounting into your existing control panel. The redundant clutch/brake punch press control module has a remote panel mount message display (available in English or Spanish diagnostics). Complies with section 1910.217 of the Federal Register and ANSI Standard B11.1-2009. SSM-20>>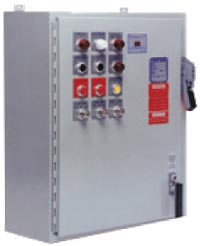 1500SS
Model 3200SS (Solid State) Control System with Components Included. Mounted in a NEMA 12 (IP 64) steel panel enclosure. Complies with section 1910.217 of the Federal Register and ANSI Standard B11.1-2009.
1500SS Package includes the following components:
-Dual Solenoid Valve
-Operator Station
-Heavy Duty Pressure switch No. 306
-Filter Regulator Lubricator No. 311
-Rotary Cam Switch with Drive Check No. 310A 1500SS>>